TEQOYA is taking positive actions
Through the efficient use of energy and resources, TEQOYA strives to design and produce products that are environmentally friendly.
We integrate sustainability issues into all of our activities: resource acquisition, manufacturing, packaging, distribution, end-of-life use and management, and interactions with our partners.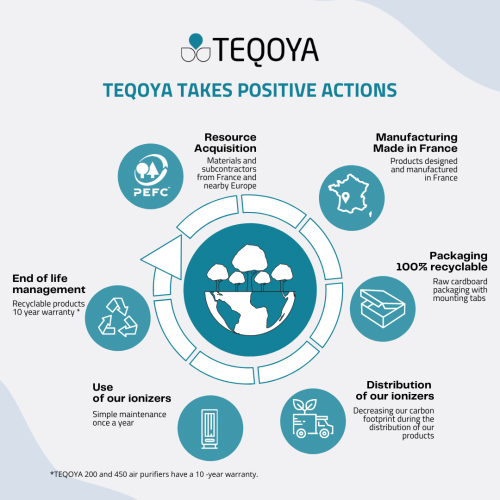 Resource Acquisition and Manufacturing
TEQOYA air purifiers are designed and manufactured in France in the Bordeaux region. We use mostly materials and subcontractors from France and nearby Europe, always within 500 km of our factory (except for the electronic components and wires needed). This reduces our ecological impact when acquiring resources.
At the same time, the wood used in our products comes from a certified and environmentally friendly supply chain, located in Cholet (France). The plastic used for the housing of our purifiers is 100% recyclable. We avoid electronic screens in our products in order to reduce the production of unnecessary electronic waste. In order to consume resources in a reasonable way, the parts of our ionizers are actually molded together, and the scraps are reused to minimize waste.
Packaging and Distribution
Our air purifiers are mostly small and lightweight. We therefore try to eliminate excessive packaging through simple optimizations. We use raw cardboard packaging with mounting tabs that avoid the use of glue and tape. At the same time, the cardboard and paper used for packaging are all 100% recyclable materials. All this allows us to reduce our carbon footprint during the distribution of our products.
Use and End of Life Management
Our products require extremely simple maintenance, without impact, and the need to send a technician. Designed to last, our 10-year warranty on our air purifiers eliminates the need for repeat purchases.