5 tips to get better sleep
Have a consistent sleep schedule
Go to bed at the same time, including on weekends. It helps regulate the internal clock and makes it easier to fall asleep at night. Also, don't neglect naps: naps are beneficial because they help you get to sleep.
Stop taking stimulants
Be careful what you eat and drink.
Avoid heavy meals two to three hours before sleep. The discomfort may cause you to lose sleep. Experts suggest refraining from sleeping pills or consuming stimulants like alcohol, nicotine, and caffeine.
The stimulating effects of nicotine and caffeine can remain in the body for an average of three to five hours, and for some individuals, up to 12 hours, which can significantly interfere with sleep. And although alcohol may make you feel drowsy initially, it can disrupt your sleep cycle, making you more likely to wake up during the night.
Avoid strenuous exercise before bedtime
Including physical activity in your daily routine can help reduce anxiety, relieve stress, and promote better sleep. However, avoid exercising within two to three hours of sleep. Exercise increases adrenaline production in the body and disrupts sleep cycles.
Avoid screens
Pay attention to the presence of gadgets and electronic equipmentt, such as computers, smartphones, tablets, TV... The blue light emitted from electronic screens suppresses the production of melatonin, a hormone that helps regulate your sleep cycle, which can negatively impact your sleep quality. It's advisable to refrain from using them two to three hours before bedtime.
Also, try to eliminate distractions from your bedroom. It's best to watch TV and play video games in another room. It helps you to relax without distractions in your bedroom.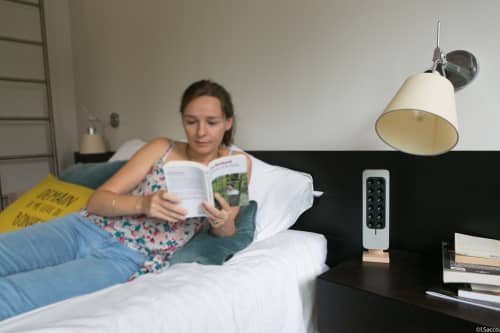 Purify your indoor air
The air quality in your home can be 5 to 10 times more polluted than the air outside. [4] Indoor air can contain many pollutants and health hazards. These substances come from different sources: outdoor air, micro-organisms, cigarette smoke, heating or even cleaning products, furniture, or floor coverings...
As we spend about 80% of our time indoors, we're often exposed to various pollutants. We absorb them through our breath and skin, causing coughing, sneezing, and feeling tired when we wake up. Moreover, the bedroom is one of the places where we spend the most time. So the air must be healthy: the air free of pollutants helps you to breathe better, leading to better sleep.