Runny nose, itchy eyes, scratchy throat, constant sneezing... these symptoms can easily be mistaken for those of hay fever. In reality, they are probably due to allergic rhinitis: inflammation of the nasal passages caused by excessive sensitivity to an allergen.
From pollen to dust mites, cats, and environmental pollutants, these particles enter our bodies and trigger allergic rhinitis. There are two types of allergic rhinitis:
Allergies are largely genetically determined, but their increase is closely linked to our urban environment. Stress, anxiety, and contact with allergens weaken our immune system. This can cause it to react excessively to seemingly harmless substances, triggering potentially deadly reactions in some people. Allergists also confirm that air pollution contributes to the lengthening of the allergen emission period, such as pollen, thereby favoring the onset of symptoms.
In 2021, asthma and rhinitis epidemics associated with thunderstorm have had catastrophic effects on individuals and emergency services in the United States. Storm asthma is caused by air vortices that disperse microparticles and their allergens before the storm itself.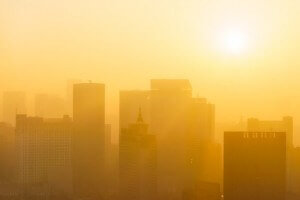 Air pollution and climate change worsen the toxicity of pollen for various reasons. Some pollutants weaken the surface of pollen grains, making them more likely to emit powerful allergens. This process leads to the release of tiny fragments of pollen cellular content into the air, which can penetrate the lungs and trigger even more intense symptoms, even fatal ones.
Global warming has also indirect effects on pollens, which evolve and multiply in quantity. CO2, for instance, stimulates plants and encourages the production of allergens.
Climate change can also ease the spread of allergenic plants, such as grasses, which can "colonize" new territories and become invasive under favorable conditions. The combination of rising temperatures, the proliferation of invasive plants, and even the introduction of new plant varieties contribute to the saturation of air with pollen. One example is ambrosia, which is particularly allergenic and is spreading more and more despite uprooting campaigns.
According to botany professor Paloma Cariñanos (University of Granada, Spain), pollen concentration in our cities could be multiplied by four by 2050. [2] The reason is the lack of genetic diversity, which results in an over-concentration of pollen, harmful to the health of city dwellers. In cities, plant sexism has been widely practiced... The fruits produced by female plants can cause pedestrians to slip and give more work to cleaning teams, hence a preference for male pollen-producing plants.
Did you know that in the United States, there is a phenomenon called "Pollenpocalypse" or Pollen Apocalypse?
The Pollen Apocalypse has become a growing concern in the United States. It occurs when large amounts of pollen are released into the air, causing an explosion of allergic symptoms in sensitive individuals. This phenomenon is often associated with spring and summer, when plants, trees, and grasses release their pollen, and can be aggravated by air pollution and weather conditions.
Sensitivity to pollen is heightened during pollution peaks. The inhalation of fine particles irritates the respiratory system and facilitates the penetration of pollen into the body. Climate change exacerbates this situation and alters the flowering cycles. For instance, in Mediterranean regions, mild winters lead to an early flowering of olive trees in early March, which can be problematic for people suffering from allergies. [3] As a result, pollen seasons are lengthening : they now start as early as the end of December with hazel and alder trees, continue with cypresses (February-March), birches (March-April), grasses, and ambrosia until summer... before being followed by mold spores in autumn! The respite for allergic individuals lasts only 2 months between October and December. [4]
Finally, even in sparsely wooded urban areas, the population is often sensitive to respiratory allergies due to air pollution and climate change.