The results of a simulation of COVID-19 airborne transmission
Based on these scientific foundations, TEQOYA, in partnership with the ALDES group, decided to conduct CFD (Computational Fluid Dynamics) simulations to represent a COVID-19 airborne transmission situation. The dispersion of aerosols emitted by an infected student in a classroom was calculated. The number of aerosols scattered in the classroom over time is used as an indicator of the exposure of other students (and the teacher) to the risk of infection.
The originality of this study lies in the use of ventilation: the classroom benefits from an air renewal of 200 m3/h by two ceiling vents. We represent a classroom in a modern building, equipped with a ventilation system that is properly sized.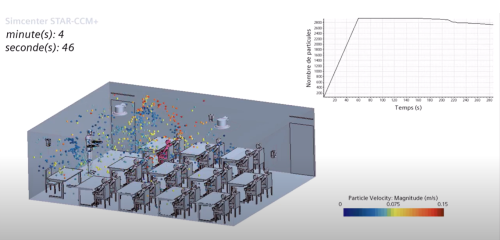 Configurations compared sought to answer the following questions:
What quantitative benefit do air purifiers provide in addition to ventilation?
If we intuitively guess that distributing air purifiers in the room improves pollutant treatment, is this advantage significant compared to a single air cleaner of the same cumulative power?
If yes, can the purified airflow rate be reduced to achieve the same efficiency as a larger single purifier (which reduces noise level and energy consumption)?
Results, summarized by the graph below, show that:
the use of air purifiers significantly reduces the spread of aerosols in the air, including at a flow rate compatible with use in a classroom (noise level and air currents);
three air purifiers distributed in a room are more effective than a single one in treating the same airflow rate.
Note that the effectiveness of the single air cleaner varies very strongly with its position relative to the infected person: the closer it's to the infected person, the higher the fraction of aerosols it can capture before they spread. This result may seem fairly obvious, as does the fact that it's impossible to predict the position of the infected person, and therein lies the essential benefit of distributing multiple air cleaners in the classroom.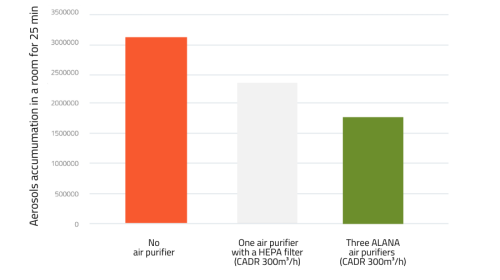 Read: "Air quality in classrooms: the new air purifier ALANA™ proves its efficiency for back-to-school".
In conclusion, if the previously cited studies show the high efficiency of air purification at high flow rates*, the study recently conducted by the ALDES group and TEQOYA is the first indication that a significant reduction in the risk of transmission of COVID-19 can be achieved by the use of air purifiers, even at a lower flow rate, in a realistic situation of the presence of air renewal (by mechanical ventilation or through open windows). It's also better to have several air purifiers rather than one big one.
*It takes about 700 m3/h to achieve a five volumes/hour rate for a medium-sized classroom.