What are the indications of transmission of the virus in the air by these aerosols today?
WHO wrote in a scientific note on March 27 that evidence of viral RNA "is not indicative of a viable virus that could be transmissible". However, some scientists say that little evidence has been put forward to support the assessment and that the lack of evidence does not mean that SARS-CoV-2 is not transmissible through air. 239 scientists in 32 countries described evidence in late June that smaller particles can infect people and asked WHO to revise its recommendations. This information is reported in all media around the world. According to Dr Marr, an expert on airborne transmission of viruses at Virginia Tech, "the focus has been on handwashing and social distancing, but if the WHO recognizes that aerosol transmission is occurring, we may have additional advice. "In the minds of the scientists working on this topic, there is no doubt that the virus is airborne," says Lidia Morawska, an aerosol specialist at Queensland University of Technology in Brisbane, Australia.
Dr. Lindsey Marr, a U.S. scientist recognized as the leading expert on airborne spread of viruses, has studied and demonstrated the spread of the flu virus, which is carried by micro-particles of water in the air and can remain there for an hour or more. She agrees with the other scientists who signed the open letter to the WHO that the airborne route plays an important role in the spread of COVID-19.
According to a study published by the PNAS last May, airborne transmission is believed to be a major contributor to the increase in infection before the introduction of mandatory mask use in many countries.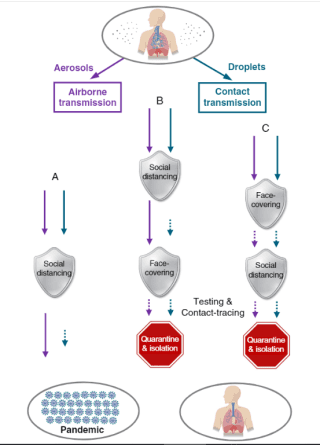 source : Renyi Zhanga,b,1, Yixin Lib, Annie L. Zhangc, Yuan Wangd, and Mario J. Molinae, PNAS
In a closed environment, virus-carrying aerosols accumulate easily, and these high levels facilitate transmission. In many countries around the world, social distancing and containment measures, combined with hand disinfection, were implemented at the beginning of the pandemic (Case A in the diagram above). These measures minimized transmission through short-distance contact but did not prevent long-distance transmission by air. Mandatory face protection measures, on the other hand, were effective in preventing airborne transmission. Wearing a mask blocks spraying and inhalation of aerosols and contact transmission by stopping the excretion of viral droplets (case C in the diagram above).