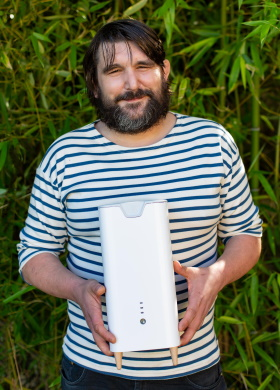 "Pierre came to us to develop the TEQOYA air purifier ionizer range. Then, we improved their performance and started selling them, in China particularly. We improved the technology, redesigned the cases... But we kept the same goal of developing an ozone-free air ionization technology, without disposable filters, without consumables, and always energy-efficient... We're in tune with the times: air purification is a major health issue. And for me, it's super interesting to work on air quality! "
Olivier is responsible for prototyping and testing all of our air treatment solutions, including our newborn ALANA™. His main mission today is to test and make sure that each evolution of our devices reaches the expected performance. And when they don't, understand why to improve them and thus assure they reach high performance.
"My daily routine: I launch a list of tests that I have defined with Pierre and Emilien. In the last few years, we've made our air purifiers twice as efficient! No different for our new air purifier ALANA™}: between its more than 4 years of development, the performances have increased year after year by working on many technical details. My mission is to find those little technical points that make our devices work better and better."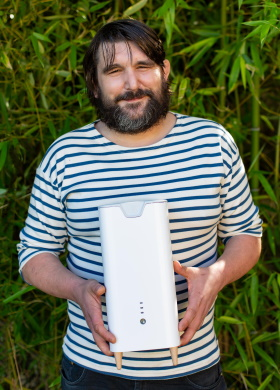 Olivier still shares one of the biggest challenges overcome...
"The first time we went to the lab, we had big disappointments with the performance of our new technology. It was not up to par with what we were measuring internally. It was quite a cold shower! But we understood where the problem came from. We reworked the device and our measurement methods. Finally, we went back to the laboratory for new measurements. And they were as we had measured them on our bench; quite a relief!"
Olivier works closely with Emilien Caux, our technical director. He has a lot of knowledge about the manufacture of our devices and does not hesitate to give a hand to the production team: checking devices coming out of production, observing methods, proposing changes in the assembly process, training the new employees... "As I am one of the oldest here, I have an overview of the whole and intervene internally with everyone. It's cool!"
And his unforgettable moment? "It was the moment when the company passed from my father to Pierre and he hired me back at TEQOYA. I was no longer the boss' son, but a full-fledged employer at TEQOYA. A great satisfaction for me!"
Find here Olivier's interview in video format. And see you soon!