An air purifier is made to remove pollutants from the air. At issue is the impacts of air purifiers on the environment. Do they necessarily reduce air pollution? Are we sure that air purifiers do not pollute more while trying to take pollution out of the air? This is a thorny question and TEQOYA provide some answers.
At first, to measure the environmental footprint of a product, one has to do its Life Cycle Analysis: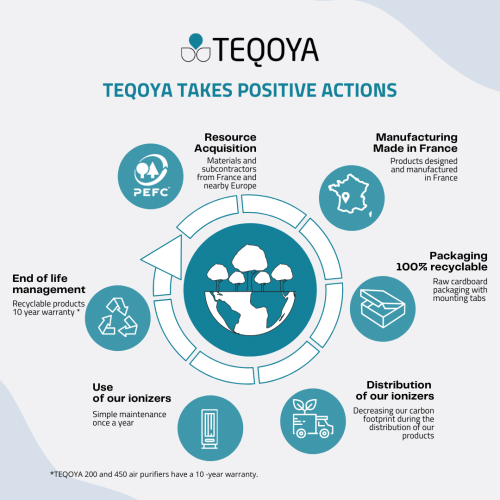 One can see on this figure that a lot of elements influence the environmental footprint of a product.
On the one hand, the liftetime of a product: the longer it is, the more its environnmental footprint during other stages of the life cycle - exploitation, raw materials, fabrication, transportation - is spread over time. In other words, it is better to choose an air purifier designed for durability than to choose a classic product.
On the other hand, energy consumption: it is obvious, but the less energy the device uses, the more its ecological footprint is reduced. Regarding air purification, it is important to choose an energy-saving device because it has to withstand daily use. If we are not careful, an air purifier may also emit more pollutants into the atmosphere than those it removes, as you can see in our calculation below! Of course, CO2 and particulates released into the atmosphere by a power plant are not directly breathed by people. But they contribute to global warming and the emission of secondary pollutants, such as ozone.