Zoom in classrooms of the experiment
In the interest of transparency, we also point out that the conditions in the classrooms during the period of the experiment did not make scientific measurements an easy task, meaning the comparison in strictly identical conditions was challenging. Indeed, the level of activity changed and the weather conditions led to the windows being open often. Finally, COVID instructions obliged the teachers to ventilate the classrooms more than normal. This is why we offset this difficulty by using a long-time sample since the experiment lasted 6 months (3 months without purifier, 3 months with air purifiers ALANA™).
Although the air mixing induced by the opening of the windows favors the entry of the external pollutants, we observed a significant and consistent influence of the air purifiers...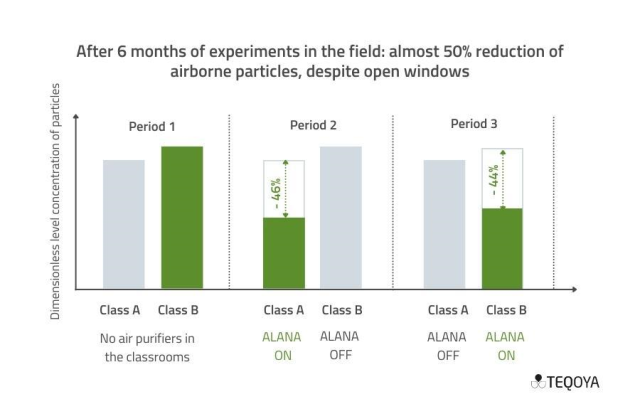 This outcome is particularly interesting because it was obtained during a semester when classroom windows were frequently opened while purifiers were still turned on:
During the winter months, the windows were open during all inter-class periods, including the mid-day break (COVID instructions).
During the warm, sunny spring months and the southwest exposure of the classrooms, both windows were open during breaks, and at least one of them was open during class.
The impact of the air purifiers is therefore highly positive in this context of use. We can reasonably conclude that the reduction of airborne particles would be even greater in an ordinary ventilation context.
Last but not least, the feedback from the teachers was also positive: the acoustic comfort was preserved during the classes (the decibels of the unit are considered acceptable) and the use is considered very simple.
To learn more about: Report on the experiment conducted in the Anatole France elementary school in Saint-Ouen.